Record summer
After a summer of staycation, the back to school season continues in this direction: the audience is there and always on the move. The number of overnight stays booked by Belgians in Flanders in July and August rose by 32% compared to last year[1]. The forecasts for September are excellent, with a 40% increase compared to 2019.
An ever more mobile audience
Driving, walking, using public transport… As we continue to monitor audiences mobility, week on week, we keep on seeing high return audience levels, even higher than normal. Data show that audiences continue to return out of home and mobility trends are beyond baseline.
For several weeks now, the Google Mobility Data has been showing that trips to parks, public gardens and beaches have been and stay significantly higher in volume than the usual pre-lockdown baseline (+111%).
These same Google Mobility Data also confirm that mobility trends for workplaces are 4% higher compared to baseline.
We also see a return to normal for places such as restaurants, cafés, shopping malls, amusement parks, museums, libraries and cinemas (+1%).
As for trips to places such as grocery & farmers markets, food warehouses, pharmacies and drugstores, they have now surpassed the baseline (+4%).
The Apple Mobility Report data also confirms this strong growth in mobility trends, both pedestrian and motorized.
[1] Toerisme Vlaanderen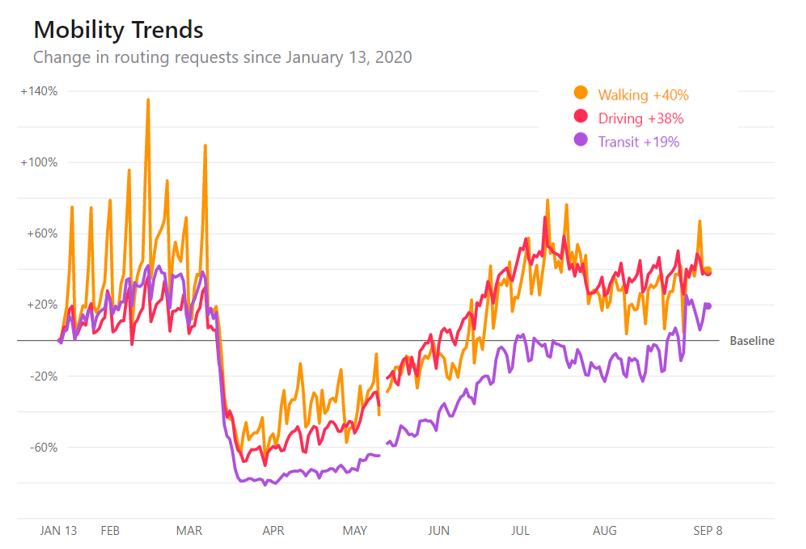 The OOH audience has returned, and brands are jumping back onto our portfolio to capture their audiences' attention in this new 'normal'.